---
Fat Pig Signals Review
---
Fat Pig Signals: (Listed in The Best Crypto Signals)
~ Binance Signals | Bybit/Bitmex Signals| Portfolio Analysis | News |Special Reports ~
+++ Pro-traders bull or bear Bybit/Bitmex/Binance Signals+++
---
Fat Pig Signals do not come with bells & whistles "Fair Warning". Thus, they don't sell you a well-decorated tiny piece of meat on a noble-looking plate. Here, you get a juicy steak like Grandma did. Though from smart guys who know how to bring that bacon home! We tested Fat Pig Signals in the worst bear market. Bitcoin just destroyed the 4K support. And then the markets tanked as if they were searching for pearls on the ground of the Mariana Trench.
When I started to monitor their trades, I was in a phase where the most left and right collected stop/losses as if they were stamps. I am still puzzled how they do it. But in times, when you start the Binance app and see more blood than on a Butcher's table. These guys have their trades running in the few assets that show green.
FAT PIG SIGNALS Funny Chat!
Meanwhile, Fat Pig Signals slaughter their way to the bear market. By the way, their chat alone is so funny! It is worth the membership fees (for friends with rougher humor, though). This, by the way, is great to have here. The admins spread much knowledge there, and you can extract great extra trades from time to time.
A few additions to what you see here is that Fat Pigs also has signals. For both Bybit/Bitmex, additional reports, and even a free live stream for people to view. So Fat Pigs has made some great strides in their offering.
Fat Pig Signals: The Offering
Binance signals with great risk management
Yield Farming Crypto generation tools
News updates
Fat Pig Portfolio Builder(mid & long-term)
Private Facebook Group
Friendly chat and well-versed team
Their signals flowed like the video below
Special Reports/Opportunity Analysis
The Signals
Afterward, the signals come plain and simple here, always with the appropriate technical analysis attached. During the period we tested Fat Pigs, we saw a nice 100% trade! Subsequently, it could have even become a 200% trade if we'd hold it for more ($XRP). These guys catch those movers and have a great hand for the right picks. To illustrate this is not a fluffed-up service with tons of features. They bring what they are paid for successful Binance signals – and boy, they deliver even in the worst markets.
Particularly, these signals are priceless in the current markets and checking their long-term history. One can see that they really know what they do. Since we tested Fat Pigs, they showed a long-term accuracy of 82.84%, tendency to rise. Most often they aim for targets in the 25% range. Their community values their accuracy. Indeed, praising them a lot for the very active channel. Where one can spot many additional setups.
Fat Pig Signals Example:
Well, this is going to be interesting on the chart. This trade became a 154% trade, while BTC was shitting the bed. GO didn't stop there and went much higher in the coming days. But hey, I won't complain about a 154% profit in the worst market conditions. (see the results)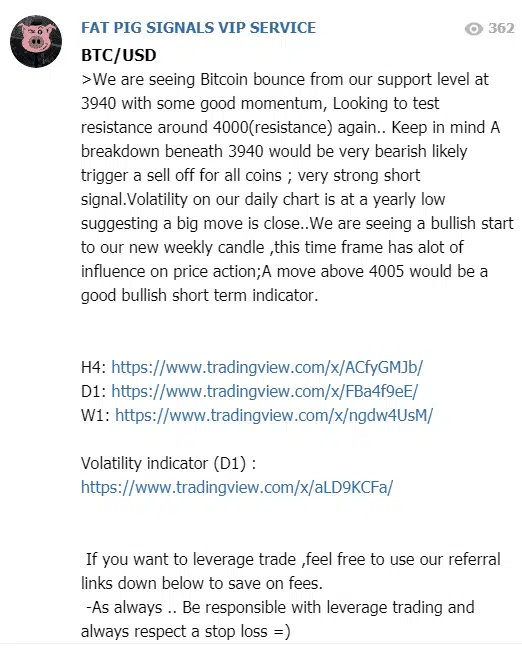 Margin Signals with Bybit/Bitmex
One of the great things about recent additions to Fat Pigs is their inclusion of Bybit/Bitmex scalping signals. These short-term trades can be seen below as an addition to their Binance signals. Many subscribers are very happy with the short-term signals and take full advantage of this new addition.
Example Below of a Fat Pig Signal. *NOTE: Red/Yellow balls are not necessarily signals. They are not related to the advanced signals/tech that Fat Pigs uses for their scalping trade signals with Bybit/Bitmex. As well, there is often additional criteria that likely will qualify a signal. Only insiders in the group get outside of the yellow/red ball signals.
Special Reports/Analysis
Additionally, one of the great things about Fat Pigs is they have grown to include an expanding service. A prime example of this is their reporting on special opportunities/Analyses. This reporting goes in-depth into the market to bring home the bacon for their trading group. Check out the report below to see an example of this:
Now as you see in that report you gain all kinds of insight into SNX (Synthetix). A coin I recently bought myself in the $4-$5 range with dollar cost averaging. As well we see a few other in-depth analyses of ANT (Aragon) who recently announced their DAO. They even talk about Staking. Flash loans and other more esoteric deep-in-the-know ideas that maybe only a DEFI nerd would enjoy. Still, it is there for you to decide!
Anyway, you look at it whether investing in LEND (AAVE). Which had a recent almost 50% move up the last month or what other DEFI coins are on the up and up, you get great value in these Fat Pigs' special opportunity/analysis reports, and that alone will bring home the bacon with Fat Pigs, and a lot of bacon at that imo 😉
The Results
Fat Pigs signals are able to deliver results. Recently we see accuracy rates between 90 and 100%, but we are in good market conditions. It is more important to consider the results they have shown when everything was red, like in our test month. This ended pretty positively with around 110% profit – and that while Bitcoin headed sub 4k. What I liked very much that these AGP (Account Growth Potential). It has been achieved with just around 14 trades! So they don't overdo it with the trades but instead select carefully the good ones.
Below are the last 3 months' results, as you can see they are nothing less than astounding! At the prices they charge and the quality of their signals. Well, this is one deal you can't shake a fork at! Fat Pigs do a great job on finding good trade opportunities. Key trades that subscribers to take advantage of in the cryptocurrency market.
The stops never exceeded 10% loss. So they always kept a good Risk: Reward ratio in mind and the few losses have been ironed out nicely. One cannot count the many trade setups that have been posted in direct customer communication in their chat room. It is very active, but surely you can grab some education there with a loose and funny atmosphere. Ok sometimes the jokes go a bit far, but it is a thing of taste, I guess.
Fat Pigs – FREE Live Signal Feed
Another great example of how hardcore these guys are is demonstrated by their free signals feed. A rudimentary live feed that may be on the surface seems somewhat vapid. But when you couple it with their charts/analysis on the inside of their group it becomes charts on STEROIDS! *CLICK on the image below to view the free signals feed.
As you can see they have more than just a few feeds for analysis. If you are in the room, you get the VIP treatment with their analysis in real time. This will bring it all home and connect the dots. This way you fully understand what the charts/indicators mean. So when it is or is not a good time to buy or sell the cryptos of your interest. They don't leave anything out, and everything is included here, kitchen sink too!
The Support
They are always around and they maintain quite a neat big support team. There is always someone near, willing to help. The traders are very active themselves are very active in the chat room. Again always around when it comes to the need for a helping hand.
Customers can also request help in private messages. They are very easy and one has to ask when they ever sleep. However, Fat Pig signals does not offer general crypto support. You will need basic knowledge about trading or you will be depending on the help of the community. The support of the channel owners is limited to the served signals.
The Critique
No big critics here. They always consider the Bitcoin movement before handing out a signal, they have proper stops in place. They support their members very actively in their chat. The Risk: The reward might be considered mediocre. If you consider its ratio between target 1, the stop, and the finally locked-in target gains.
However, this is a critique on paper and totally OK. If it is their strategy that helps them to keep up with the high accuracy provided. Another point of critique is the limited support, which suggests to signup once you gained some basic trading knowledge.
What makes this channel unique?
The channel has a very unique flavor, which you cannot bring down to a few words. They don't feature many extras and gimmicks but more than most channels. Fat Pigs are just plain and straightforward offer rocking BTC and altcoin, signals, no matter how bad the markets are. and
They restrict their signals to coins/tokens with decent volume. Which makes it easy to get in and out and also decreases the risk of getting pumped & dumped. Good research behind the trades. Furthermore, they feature a 24/7 YouTube Channel. Where people can see them live trading, making sure their work is unique and based on their real trading knowledge.
Customer's Insights Review
In this section, we ask existing customers or members of the smart options telegram channel for an additional unbiased review. Form and content are completely free, so the channel tester is free to express his/her opinion. This customer insights review has been provided by long-term Fat Pig Signals member Felix.
"Hello out there.
My name is Felix and today it is my turn to give you a short summary of my experience. In the last 6 months with FPS VIP Service. As I mentioned before I joined the FPS VIP Service in October 2018 and the results are fantastic.
The Signals
The first Point I want to mention is the signals themselves. So when I joined, I thought TA is just nonsense, but Fat Pigs taught me the opposite. The signals are shared very fast. The market updates are very quickly available after some rapid movements in the market. Sometimes it happens that these signals run up very fast. Just after they were shared in the Fat Pigs VIP Chanel. But this is just if it's a lower-volume coin.
I personally just use the BTC and ETH updates to make some leverage trades with the signals shared. I also have a look at the Altcoin signals and mostly they hit the provided targets very fast. From time to time there is a signal that is running in the opposite direction than expected. Also provided Stop-loss gets triggered and you´re out of the trade without too much loss. Generally, there is just a very low percentage of "Failed Signals". If you trade all these signals you should be in a significant profit soon.
The Technical Analysis
The second point will be the TA (Technical Analysis) that gets provided on top of the Signals. I mentioned before that 2 different types of Signals are shared in the VIP Chanel. On the one hand, there are the Altcoin signals, and on the other hand. You will find market updates on the biggest cryptocurrencies like Bitcoin, Ethereum, Ripple, Litecoin, and XRP.
The Support
The third point is the Telegram Group and the admin support. Since I joined Fat Pigs I´m spending a lot of time chatting with the Fat Pigs admins. There are two admins and it seems as if there would be 24/7 support. If you have any questions about recent Signals that were shared. Or even, if you have some questions about your personal TA, just ask in there. The admins are more than willing to help you within minutes.
Now after I'm in that group for almost 6 months. I have to say it is not just a signal service for me it got more for me personally. It just feels like a big family you join, and everyone is nice and helps each other.
Especially Gang Plank and Dad in Telegram supported me a lot in starting my own TA. Also, they give me some pieces of advice and answer all of the questions I have. These are a lot to be honest because I'm just at the beginning. The support you receive from those people in Fat Pigs is amazing.
The Customer Judgement
In the end. I want to summarize my thoughts on Fat Pig signals. I really have to say that these guys are totally worth their money. You don't just receive these sick signals with decent accuracy, NO! You also get all these amazing admins and the other members in Fat Pigs chat are decent. If you just want to make money and you're not interested in a community. Well just go for the Fat Pigs VIP Signal Service. Trade these Signals and you will make your money back within a few weeks imo. Depending on the funds you're trading with.
If you want to make money, search for a nice and amazing Community. Then just go for Fat Pigs signal service and get into Fat Pigs Chat as soon as possible. I guess you will soon feel that this was the right decision. To finalize my summary, I would like to thank the Fat Pigs team for the amazing support you provide your signals are the best out there and I love every day I'm in telegram with you guys <3.
Hope to see you soon in the Fat Pigs chat! I also hope they give you this feeling I had when I joined the Fat Pigs!"
The Judgement
Fat Pigs signals offer unique work. You will never find stolen signals or anything else shady with them. An upfront, honest signal provider with a strong community, which engages you to learn in a funny environment. That being said, the received signals are always of great quality. An outstanding sign of quality is how they monitor the complete crypto market environment. Way before they are handing out trading recommendations.
The technical analysts' knowledge consists of way more than "muh triangle memes" and to be honest. I love the "almost hidden" BitMEX signals they give as a bonus here and there. For those who complain about the Risk: Reward. It is all part of their strategy and has been proven to be consistently successful.
The thing is if you have a proven track record and success rate like Fat Pigs for months and years. You can allow yourself this drawback.
All in all, Top work for a really good price. 0.5 Eth for three months is more than justified if ETH drops. Another time as I did in the last month's I'd make sure to get a yearly subscription at a discount.
Fact Sheet for Fat Pig Signals
Official website: fatpigsignals.com
Telegram Contact: @dad10 or @gangplank123
Discount Code: SMARTOPTIONS (-25%)
Plans & Pricing: 3 months 0.50 ETH | 6 months 0.75 ETH | 12 months 1.25 ETH (spot conversion to BTC possible; Discount not deducted)
Auto Trader: Yes, Cornix Auto Trader Solution
Special Features: Great Community behind this service, relatively safe quality signals – even in the worst bear markets, trades only in highly liquid coins to avoid risky pumps.
Signals with technical analysis: All signals came with a technical analysis
ResultTracking: Constantly updated Results-page
Exchanges: Binance, Bybit and Bitmex
Trading Timezones: 24hrs
How the paid channel looks like: