SmartOptions presents June and July signal results for its top signal providers. June saw Bitcoin crash to its lowest level since January 2021. It fell to as low as $17,700 on June 19th. Although it has recovered since the 41% market crash in June slowed down trading by a lot. Signal providers didn't issue more than a handful of signals in the month of June.
The crypto market was still struggling by the end of June. BTC was still hanging around below $20,000. However, July provided some relief as the markets started to turn green. By the end of July, BTC was trading back at $24,000 which again shows how strong it is near the $20K resistance point.
June dealt some shard and fast blows. The outflow of funds from crypto markets was primarily caused by investors taking their money out of risky assets like crypto. The US FED hiked interest rates in June to deal with mounting inflation, almost all financial markets faced the music. Crypto, perhaps, was hit the hardest as it's known to be the more 'risker' investment among conventional markets.
This should give you a clear idea of how the market crashed and recovered in the last two months. Now, let's move on to see how our signal providers did in these testing times. Here are your June and July signal results.
Signal Results June 2022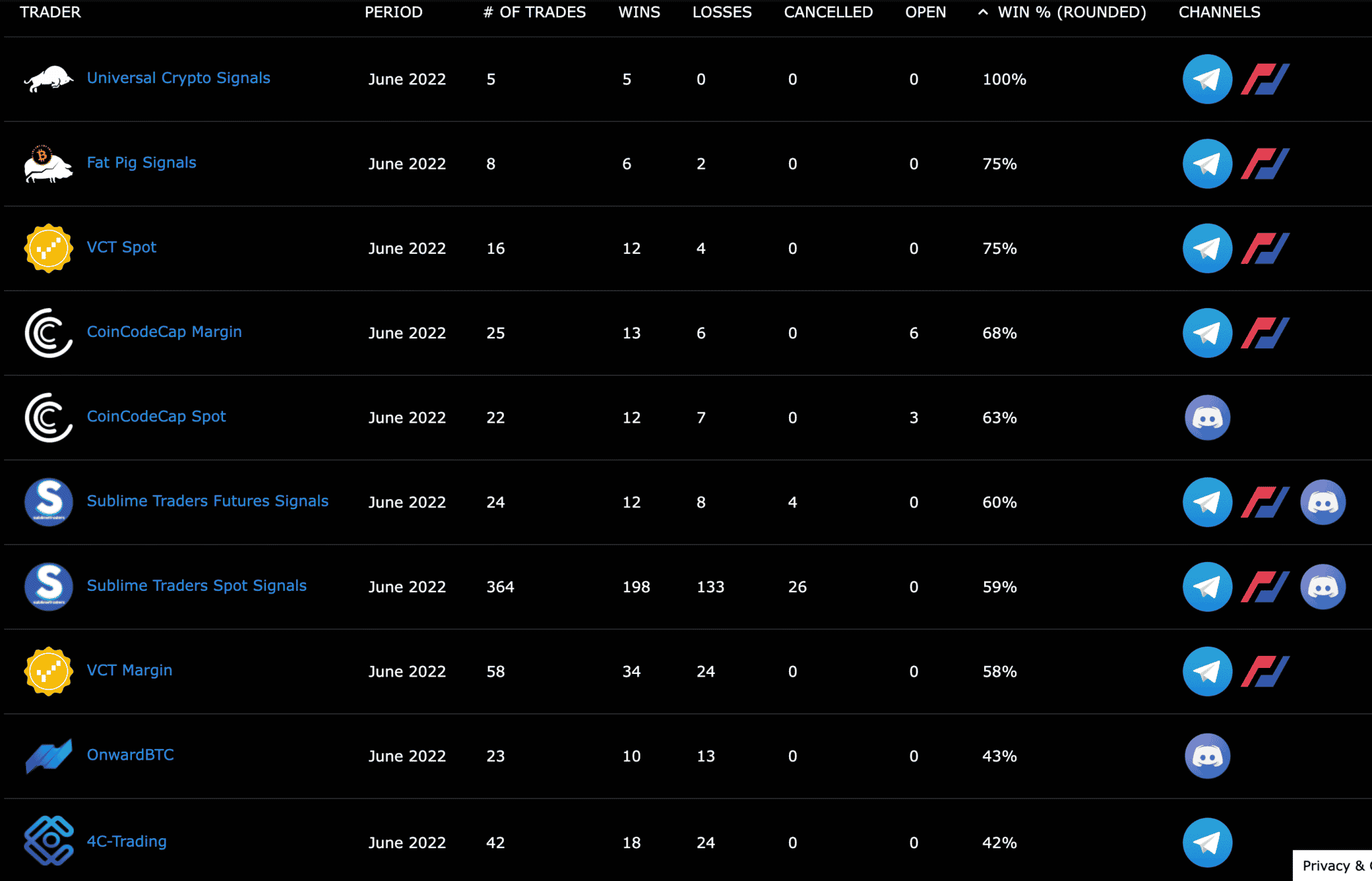 We weren't able to post our signal results in June on time, and we apologize for that. We have always believed in offering our readers timely performance reports to help them make the most educated decisions. Results sometimes can get delayed on account of our signal providers, but we always try our level best to bring you accurate and transparent result reports.
Rate & comment on the providers!
Universal Crypto Signals has once again proven its mettle by retaining its #1 spot in June, in one of the harshest market crashed in last year and a half. But again, like any subscriber would complain, just five trades in the whole month is pretty low. However, it's really reassuring for any UCS subscriber to see it has retained its #1 position from May signal results and beyond.
Fat Pig Signals is the runners up for June with a 75% win-rate. They issue more trades than UCS but were only profitable 75% of the time. Verified Crypto Traders were back in the top three with an average 67% win rate for their Spot and Margin signals.
July Signal Results 2022
Now, on to July. As you'd expect, Universal Crypto Signals rank #1 again. But they got here being very, very miserly. Just three trades in the whole month? UCS really have to up their game.
While CoinCodeCap appears to be number two, their combined average for Spot and Margin Signals means they're not the runners-up. Neither is VCT. Fat Pig Signals get the second rank for July for their 84% win-rate on a total of 13 trades. It would be fair to say Fat Pigs outperformed UCS in July when it comes to the number of profitable trades.
CoinCodeCap rank third with a combined average win rate of 82%, which is pretty sweet! Especially when you see they issued a lot more trades than UCS and Fat Pig Signals combined.

1) Universal Crypto Signals
Telegram Signals
Bitmex Signals
Universal Crypto Signals have a habit of ranking #1. Be it a bullish market full of green candles or the bloodiest crash, they don't like leaving their top spot. However, the meager number of trades definitely needs a lot of improvement.
Beware of scammers trying to impersonate reputable signal providers' admins! You might encounter a scammer impersonating Saviour from UCS, it's better to confirm their official Telegram usernames before having any conversation.
No coupons found.

2) Fat Pigs Signals
Telegram Signals
Bitmex Signals
Fat Pig Signals have performed exceptionally well in the month of July. Not only did they achieve a pretty healthy win-rate of 84%, they did this while giving their users a solid 13 trades in the month.

3) CoinCodeCap
With an average win rate of 82%, CoinCodeCap trading signals rank third this month. They have been one of the top performers in the last few months and we are very happy to see their success.
Telegram Signals
Bitmex Signals

4) Verified Crypto Traders
Telegram Signals
Bitmex Signals
Verified Crypto Traders' Margin and Spot Signals' have performed well, but not good enough to help them rank in the top 3. Their Margins channel performed better with a 58% win rate compared to VCT Spot which had a 85% win rate. With an average win rate of 72%, VCT ranks 4th.
30%
Verified Crypto Traders 30% discount
Looks like you found a Verified Crypto Traders special discount! Don't like to read and...
Show More
Looks like you found a Verified Crypto Traders special discount! Don't like to read and just want to join the number two on our best provider list with a 30% discount. (The discount is already applied in our shop for you)
Show Less
5) OnwardBTC
OnwardBTC are back on their improvement run from June and have a very impressive win rate of 66% in July. This compared to May's 39% is a drastic improvement!
Signal Results June & July – Final Thoughts
June and July were tough months for all financial markets, crypto, stock, or forex. That said, we are proud to announce that our top signal providing partners have maintained their reputation and issued profitable signals for their subscribers despite it all.