Kraken Exchange Review is in! We are not kidding when we say this could be one of the best crypto exchanges for US residents. I would say this is one of the longest-running exchanges and only has improved through the years. Coinbase started in 2012 but Kraken Exchange started way back in 2011!
It was founded by Jesse Powell. He started it out of concern for the old MT. GOX which at the time controlled most of the cryptocurrency trading throughout the world. His concerns were spot on! He always has been a straightforward low-key individual in the crypto space, basically no BS…
What Makes the Kraken Crypto Exchange Stand Out?
The Kraken Exchange Review might be the focus but the star of the show is really Jesse Powell. He has been the prime reason for Kraken's success and continued patronage in our view. He is a talented forward-thinking cryptocurrency geek of the top echelons of our crypto space.
The Kraken Exchange alone is at best the middle of the road. This is because it mixes a blend of ease of use, education, and good security. The fees are a bit too complex and confusing. The main courting of this exchange seems to now be focused on corporate clientele.
Kraken Exchange Review: Jesse Powell
In the Kraken Exchange Review, we want to focus on Jesse Powell, as he is the main reason for our enthusiasm for this cryptocurrency exchange. In the early days of crypto trading, he was a key supporter of not only cryptocurrency but the trading of it. I remember back in 2011 trying to understand the value proposition of Bitcoin, with little success.
The Kraken exchange was easy to use and follow the prices of bitcoin, and later it became my first intro to buying/selling cryptocurrencies. Prices back then were all over the place, with low liquidity, and extreme price swings. It could make a sailor or rough seas seasick watching the price moves.
I never felt comfortable with overseas exchanges like Mt.GOX or any of the Asian exchanges as I thought of them. Through the years I was proven right with all the hacks and outright thefts, which were inside jobs anybody paying attention could see. Greedy stupid people. "Karma will get them, as a man without honor is not really a man."
Jesse Powel Steps Down as Kraken Chief
Jesse Powel and the way he has changed the crypto industry remain to be one of the most important reasons we consider Kraken to be a high-quality exchange. However, we knew he couldn't always be at the helm of the exchange. He stepped down in September 2022, opening the way for COO Dave Ripley to take over as Kraken's CEO.
This Kraken Exchange review is about context, remember. Jesse Powell created a secure crypto exchange with a desire to support and grow the crypto community. Pure and simple, it can be seen in all Jesse Powell has done. In an uncelebrated low-key way in which he operated. We are yet to see how the exchange operates under the new leadership.
Jesse Powell MT.Gox History Lesson
If you want to see a great broadcast of Jesse Powell talking about Kraken and the history of Bitcoin/Cryptocurrency. Please check out this podcast of "What Bitcoin Did". An amazing talk about the nuance of crypto and how corrupt some parts of our own government are. Showing how NYDIG is a pure political joke where crony capitalism rules. At some point that will have to be dealt with in the future and overcome.
Jesse Powell may be understated, but he is a hero in the cryptocurrency world. This Kraken Exchange Review would not exist if it was not for his good work in the space. He deserves credit.
We will go on in more detail from here about Kraken in our exchange review, but know that Jesse Powell built a white hat secure, easy-to-use crypto exchange for all of us. He did it against the will of political goofballs and the crony capitalists that still corrupt our space trying to hold back the blockchain world.
Kraken Crypto Review: Transparency & Proof of Reserves
The recent FTX collapse has sent shockwaves across the crypto industry. Other crypto exchanges have reiterated that the FTX crisis impacts them in no way, but that is what they claim. The truth, however, is that the sudden and shocking collapse of one of the largest crypto exchanges has made other trading platforms scramble to prove that they're not on the same path as FTX.
It's very important to mention that Kraken practices due diligence when it comes to transparency. It has hired Armanio LLP, a top 25 accounting firm to conduct regular Proof of Reserve audits. These audits are solid proof that Kraken actually holds the assets it says it holds on your behalf. This makes sure all your funds are readily available to you at all times.
Kraken's regular Proof of Reserves audits should give you peace that your assets on this exchange won't suffer the same fate as on FTX.
Kraken Exchange Fee Structure
Firstly, as we can not above in this Kraken Exchange Review the fees are geared for more capital-rich investors. Maybe not as horrific as the current Coinbase Pro fees for small investors, but certainly not as advantageous as a Binance for the little guy. Secondly, the tiers and options in what you can pay become a game of calculators. They would do much better to simplify their fee schedule.
On the other hand, they have good rates if you are a much larger trader. Thus you need only bring in barrels full of cash and you are good on the Kraken Exchange for trading. Have an extra ten million dollars and want $0 fee commissions. No problem use limit orders and bob is your uncle!
Funny enough though the Kraken Exchange is available to U.S. residents, I would imagine that Europe is its key component. Jesse Powell created a culture of security, and understated useability with Kraken as an exchange. This is glowingly obvious. They work with Euros, they have great security and are simple to use. Of course, this would be the largest broker in terms of volume in Europe. Makes perfect sense.
What is odd is they are really an American exchange based in San Francisco! So ahhh. Ok. The complex fee structures geared towards higher net worth individuals work especially well for the European market.
Margin Rates
Now a word on Kraken funding rates, not a fan of their 4hour rates or their fees associated with this. In the U.S. you don't really have to worry about such as they do not allow margin trading here. For those of you in Europe that don't mind being overcharged, well enjoy!
They don't seem to have any nuance here either. As you can note by the whole value in how they charge from one crypto to another, one very big weak spot for the Kraken Exchange we find.
Kraken Flash Crash & Trading Leverage
Now, this is a disappointment to me as a crypto trader. I have seen many instances of manipulation from all sorts of crypto trading exchanges, some of those crypto exchanges worse than others. Jesse Powell lost a lot of respect from the past of being a Crypto Hero of the space after everything that went down with MT.GOX. The way he handled the Flash crash that recently happened this year is not ok.
First, he said basically "Too Bad, that is not our fault." noting just how quick he went on TV to defend the Flash crash, trying to say it was supply/demand dynamics, which equals pure bullsh*t to anybody with common sense, and a decent amount of trading knowledge. He could have canceled all the trades, end of the story. For him not to = a profit motive from his side. Now if you don't know the Kraken Exchange has only up to 5x in leverage, far behind many of the others with their 100x and some even higher.
Well, the only way for his exchange to profit off a flash crash is if it was extreme in nature! Is that not funny this flash crash on Kraken was very extreme in nature! Honestly, his exchange should be investigated to see exactly who benefited from this. He did offer refunds of 5% to 50% citing customer retention. I would like to see an investigation here, get a clear view of just how much was made or maybe lost by Kraken on this flash crash. This just reaks of exchange manipulation of the old Bitmex days.
Greed the way of the dark side…
Firstly, you only have 5x leverage give us a _ucking break! Secondly, your trading volumes have great liquidity. So I don't buy this and any financial regulators should not buy it either. I hope Jesse Powell is not going to the dark side, as this is not cool. You don't want to become like all of those you complain about Jesse…
Margin and Futures Trading on Your Kraken Account
Kraken allows both regulated futures trading and margin trading with up to 5x leverage. Kraken's futures trading includes top cryptocurrencies like Bitcoin, Ethereum, Litecoin, Bitcoin Cash, and Ripple.
Kraken's futures trading option lets you trade these token with up to 50x leverage. You also get seamless transfers between Kraken's Spot and Kraken Futures trading markets.
When it comes to margin trading, the Kraken trade engine let you leverage up to 5x. It also offers advanced API access if you want an auto trading bot to take over margin trading for you. Kraken has low rollover fees and high margin trading limits too!
All in all, this trading platform is efficient for both futures and margin trading with a range of unique features that set it apart from the competition.
Kraken Exchange a focus on Institutional Investors
If you are an institutional investor, maybe out of America or Europe? Well, you will have an easy time with Kraken. They might offer a confusing plethora of tiers for their clients. Thus this has a purpose. In my view, they did a good amount of research to develop it this way. Researching brokers in the fintech space to a great degree.
Working with many brokers over the years I can see many of the hallmarks of their calculations across the board on Kraken. Smart in a way, yes. Also a bit short-sighted too. They are in danger of becoming a boutique exchange catering to a smaller slice of the market due to competition eating their lunch. Maybe too early for that, but it is likely coming.
This makes sense in several ways. Customer service wise they have a very good team, that is responsive and well respected in the crypto trading space. They are no-frills, efficient, and extremely responsive. From what I have heard as well, is they are deal makers. So if you are a big company and want to see what you can negotiate, well these are your guys!
Kraken Customer Support
In this Kraken Exchange Review, we highlighted a few areas of standout performance. This one I can loosely say is one of the Kraken Exchange better points. Turn around time with clients being clocked was often under an hour and with their even faster with their LiveChat as the AI on it is smarter than most for answer common questions. One trick is to Type in "LIVE PERSON" and the AI will quickly direct you to a live chat rep. Tested it a few times and only took 10-15 mins on average to get a live person.
They don't seem to want to really take any phone calls, which is something I like about Coinbase, they are always very easy to get on the phone. Still considering all the ways you can contact them and the fairly quick response they get higher marks here.
The key element to their success you can easily see being design/logic. Again the Kraken Exchange shows its intelligent routing of communication and functionality for the customer. You use their site and it won't be hard at all to get questions you want to be answered in a timely manner.
Kraken Exchange Review: Security
In our Kraken Exchange Review, the security is up there with the likes of Coinbase, thus having no major breaches. This is because the people running it unlike many of the overseas Asian exchanges not only have the know-how to keep the site secure but are actively engaged in ensuring it stays that way.
The key here is Jesse Powell, coming from a highly technical background in business/technolgoy he did not mess around with finding the best he could in making sure he did not suffer from the horror he had seen over the years with the likes of MT.GOX. Again scroll up if you want to listen to his history which is fascinating in the crypto space. He details the issues and thought process behind what makes the Kraken Exchange a success.
Again this could be the best exchange for U.S. residents because of this alone. Yet security alone is not good enough. Back in the day 5 or more years ago I would say easy to use, good security, and cheap enough would cover all the bases. Not in today's world. Those are all now prerequisite for traders.
Kraken Trading Interface
Here we do not have much to write about. The interface of the Kraken Exchange in our review is straightforward and dead simple. I would say it is fairly fast as well. When entering orders for execution it will be appreciated. They spent a good amount of time not trying to make it over-complicated.
They went for the speed and quick order execution. You can even if you look see small nuances of elements missing visually. This again from what I can see is an attempt to speed up the trading process. I like that as a user. No need for complications or fancy designs of trading interfaces.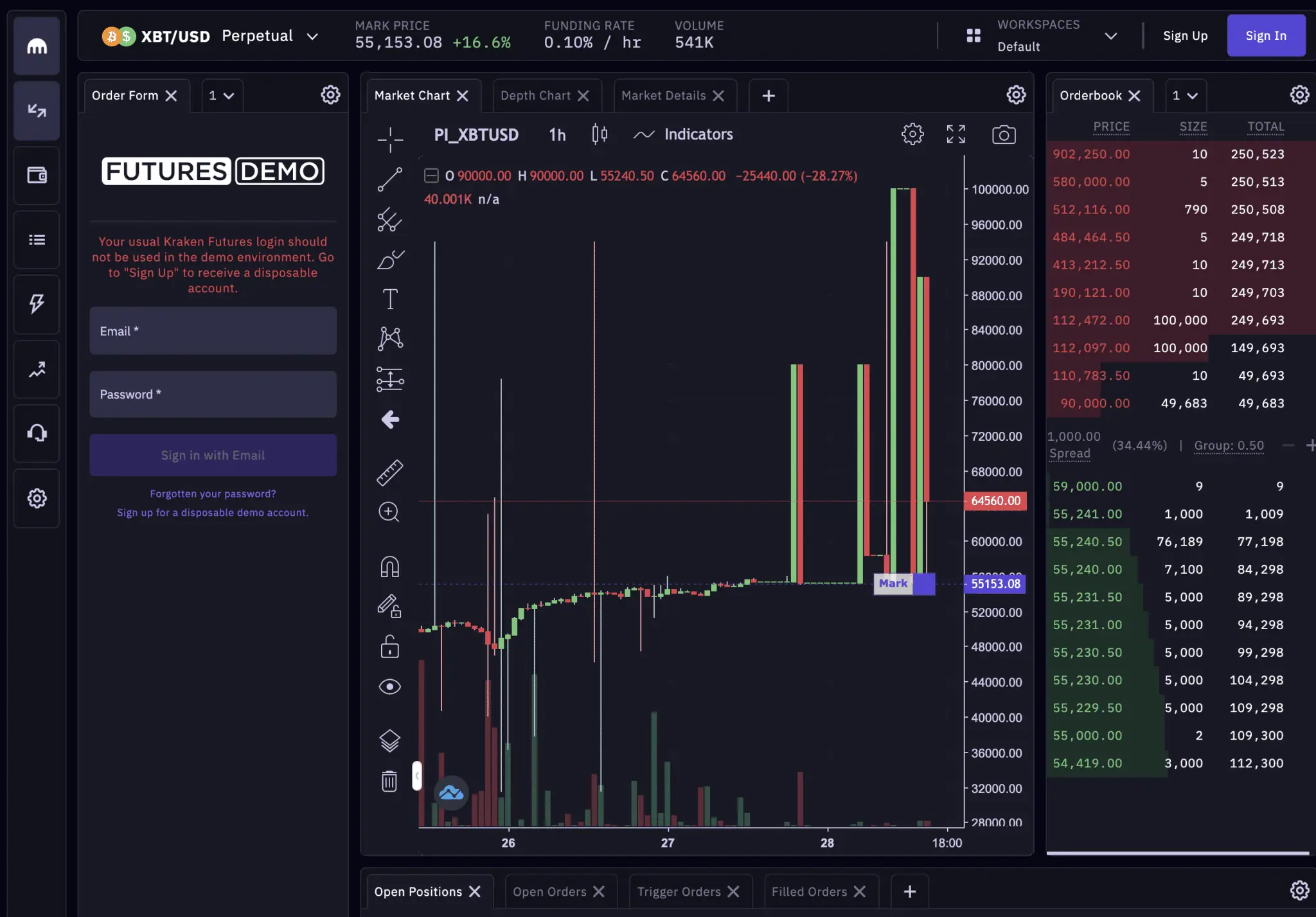 The demo feature. Another great thing about Kraken is the ability to try out the Kraken Exchanges demo account feature. Of course the speed here is faster then actually routed orders. Still it shows the reducation in frills of this crypto trading interface being solid. You should notice speeds in actual orders vs other brokers like Binance which, well their speeds are pretty bad.
Also, note no reduction in order types or any other missing features to gain this speed. This is just good solid programming chops here.
Kraken Exchange Review: Education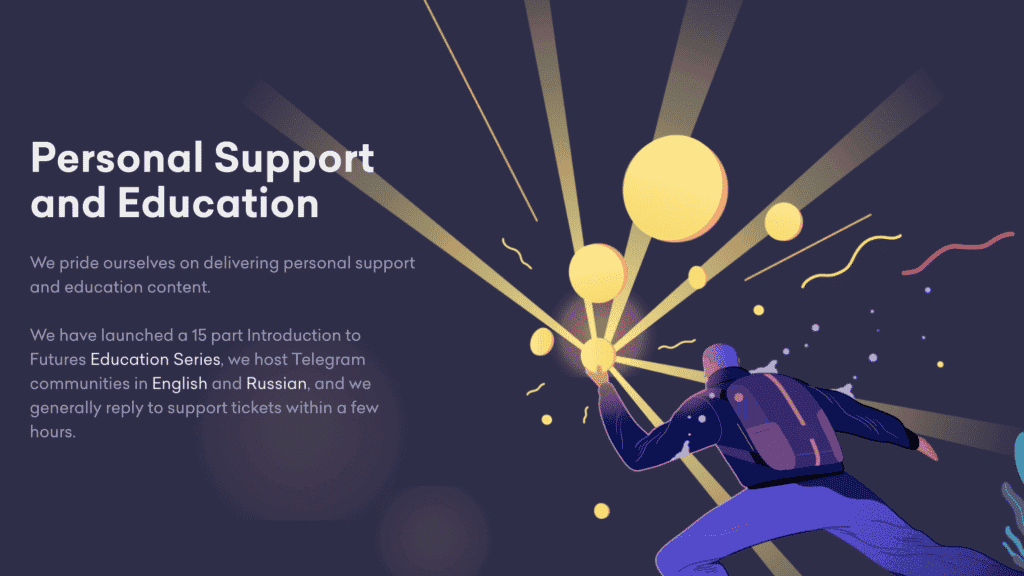 We noticed in our Kraken Exchange Review something new from the Kraken of the past. Firstly, they have an all-new education series. Secondly, they also are now actively engaging through Telegram. There are many great groups who use Telegram as noted in our "best crypto signals" posts on the site.
The last time I checked their education/interactions in the space it was minimal at best. So this is a nice new and engaged Kraken Exchange, which we welcome!
Telegram crypto signals are one of the most trafficd areas on many sites. People find it an easy means to communicate crypto trading education or crypto trading signals with each other.
Another nice feature if you are a Russian trader is they have some of educational resources in Russian. Often traders from that side of the world are left out in the cold, like even colder than where they are from, to begin with!
A few words on geographic restrictions with Kraken
The reason we state that Kraken might be the best exchange for U.S. Residents is that it is available to trade in most U.S. states, has great security, and over 40 trading pairs. Alas, there are some issues though. Firstly, the ones with the United States. Secondly, with the rest of the world.
In the United States, Kraken has had to run a fine line. I really don't know why this is the case, did they piss off someone in NYC? Hence they do not have any onboarding in the Big Apple for possible clients. very sad, indeed. Also, if you live in Washington state you can't trade using Kraken, like WTF!
From Kraken's website:
No Service (Only Pre-verification)
At this time, Kraken does not offer service to residents of:
While we strive to offer our services to all US residents, the cost of maintaining regulatory compliance in some states can be very high, forcing us to make hard choices about whether cost justifies doing business in the state.

Residents of the above US states can submit verification details for any account level for pre-verification. If pre-verified, your account will be ready when regulations allow us to serve you in the future.

If you move outside of these states, you can use your new address for regular verification. Be sure to provide a Proof of Residence document so we can legally provide our services to you.
Again very strange, first why Washington? Are they anti-antifa? No trading in NYC? Did they insult Andrew Cuomo and gang? This does not reflect well on Kraken. If they were smart they would resolve the issues in those states. This does not make them seem like a big player at all in Crypto. Hard to justify that Kraken could be the best exchange for U.S. residents, when two big states are missing, becaues they feel they are too restrictive. Put on your big boy pants and get over it Kraken.
I can understand not serving countries such as the ones below, which the Kraken Exchange does not.
No Service
At this time, Kraken does not offer service to residents of:
Afghanistan
Congo-Brazzaville
Congo-Kinshasa
Cuba
Iran
Iraq
Libya
North Korea
Syria
Tajikistan
Restricted Service
Clients in these countries can create an account but may be restricted from funding:
The central African Republic
Eritrea
Guinea-Bissau
Lebanon
Mali
Namibia
Somalia
South Sudan
Sudan
Yemen
All of the above countries most crypto exchanges would not serve. That makes sense, but no NYC & Washington State!? Ehhhh?
The Kraken Exchange Review Conclusion…
A mixed bag, have to give credit to Jesse Powell for being there from the beginning far before most. I applaud him for his work to untangle MT.GOX. I think he is a very smart crypto revolutionary, that has helped the crypto community for many years. In our Kraken Exchange Review, we did not hold our punches. We are clear about what we like and what we don't.
Not doing business with NYC and Washington is problematic and just bad juju for the Kraken Exchange. We recommend they fix that and keep moving forward. We recommend they fix their pricing as well. Uncomplicate the tier structure.
All in all Jesse Powell we root for you! I myself give you a pass on the flash crash, though many don't. Exchanges can't function as they once did with silly prices in either direction, those days are gone. Regulators are here to make things better overall. No, they are not perfect and like you rightly pointed out are full of corrupt politicians and crony capitalists. Ok great, that has been the case since the beginning of time. You don't win by running away from the battle, you win by engaging and conquering!