Bart Simpson! BART BART BART! So I have heard this far too many times in crypto trading. On every Bitcoin price discussion you face, may it be telegram channels, may it be Reddit, Facebook or Twitter you will find people screaming! "There, there – that whale-driven manipulation Bart pattern on Bitcoin".
This is why we have Ricco, who is our technical analyst at Smart Options, has been trading since the 90s and knows inside and out the common chart patterns.
When we discussed the recent hype about the "Bart Simpson" – pattern, he immediately sat down to make a video, as he is allergic against – quote – "overhyped garbage" – quote end-. See Ricco demystifying the Bart Simpson pattern now:
Table of Contents (click to expand)
Bart Simpson Pattern, can you make money on it!?
In trading you can make money on anything! Conversely you can lose money on anything too! The key is learning good money-management and slowly gaining knowledge on TA "Technical Analysis" over time.
Bart Simpson Holy Cow Batman!
When using the bart simpson pattern people forget that not every trade wins. Many newbie traders will bet large sums and after a few wins think they are invincible. Which they are not and soon go from being up 200-300% to being back to almost 0% 🙁
Therefore, the Bart Simpson can fail! Don't be fooled into thinking this is the end all be all of trading. Thus one should do their homework and try to learn more about technical analysis first before losing all your money.
The above shows the SPIKE that many over leveraged traders. Consequently blow accounts on bitmex! Owchie…
you won't hear anybody talking about this because they are noobs and noobs only see what works or wins. They ignore their losses like losers and gamblers do. Bart Simpson seems to be away on his skateboard.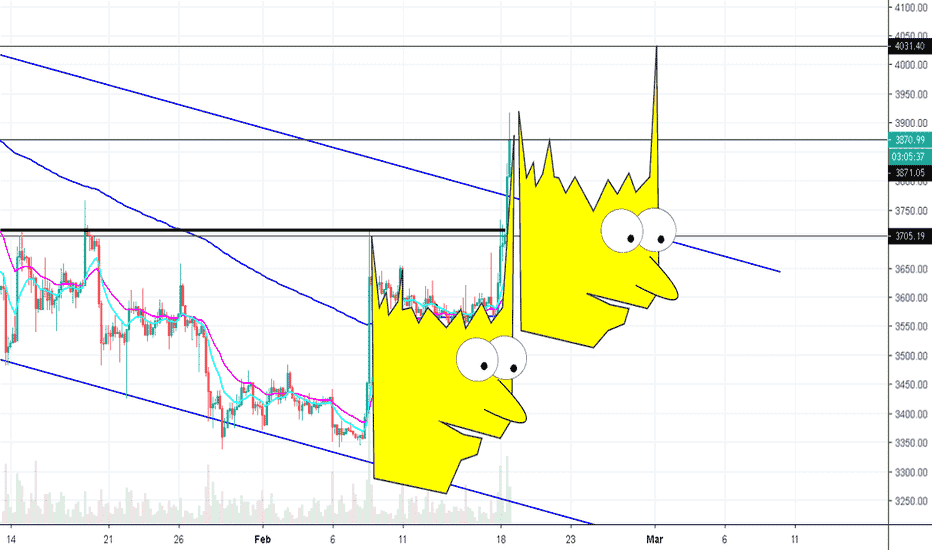 Hence the above FAIL, if you were trading this. Well not as simple as it looks huh? Cryptocurrency trading is not for fools and degenerate gamblers!
Again below what if you were short on a trade that spiked up on your perfect Bart Pattern?
If you are losing money…
Clearly, you might wish to learn some real TA from people who can show you good trading and provide even signals. On our "Bitmex Post" we list many different groups.
Once again we wish to leave you with some good advice!
Firstly – Take your time learning Technical Analysis!
Secondly – Don't believe everything you see or read on the internet!
Thirdly – Learn from people who trade crypto for a living!
Below is our review/rating of the Bart Simpson Pattern, enjoy!