The Best BitMEX Signals on Telegram
Best BitMEX Signals – How to leverage trade Crypto Markets with crypto signal providers – Version: 6 ( Last Update: 02/09/2021)

BitMEX is a platform for leveraged trades. You can use leverage up to 100x. BitMEX Trading Signals shall provide you with an edge over the market. Professional crypto traders share their own setups of trades they consider taking on the BitMEX platform. A BitMEX Guide can help you to understand the basics.
Trading cryptocurrencies is not fun right now. You can only buy and hold – and hope it will get up, but what if everything you touch just tanks. For many people, BitMEX becomes teasing more and more to trade the financial market of cryptocurrency. It offers the opportunity to reap some profits while the other holdings on regular exchanges are dropping. BitMEX is a trading platform, not an exchange in a way you might be familiar with. This makes an important difference.
Beware of the Risks
We wrote an article about BitMEX and its danger of high leveraging your trades, and want to stress that leveraged trading can zero your holdings in no time. Especially if you don't know what you are doing. So keep in mind every high leverage traded recommendation is a risk for your account. This is due to the well-known volatility of Bitcoin and crypto in general. The risks are obvious: Once your margin is eaten, the trade – in the worst case your account becomes liquidated.
You need a trading plan, on when to enter and when to exit the markets to make money. If you're new to BitMEX and just playing with the thought to start over, please take some time to read our BitMEX Guide. BitMEX is heaven and hell in one. It can help you to stop the bleeding of your account value and it can cost you everything. Our selected providers will help you to make the first case happen. Growing your BTC holding while the world falls apart – ready for the next bull run!
More About Bitmex
BitMEX is a Hong Kong-based cryptocurrency derivatives trading platform that works as a real-time application for potential investors. It operates in many regions such as Japan, South Korea, and Europe, Russia. US Citizens are blocked by an IP ban from using the live platform (but can use a VPN via RDP like many users report. No guarantees given here). Its commission rates vary with each transaction. BitMEX is since 2014 in the game and was the first to launch a leveraged swap contract on cryptocurrencies. In other words, since there is no expiry (on the perpetual contract for Bitcoin ($XBT) ), one does not need to roll one's position at a fixed point every time – only the future contracts run out.
Finding the best BitMEX Trading Signals
Your Journey Starts here
The first thing we found out pretty fast, is that there are near to no good BitMEX signal providers on the market. They are hard to find and way often an outright scam. We've thrown out the fishing rod and found a few ones you could trust. These are providers whose channels we are monitoring for a long time and can vouch for their seriousness. As we are subscribed to the regular crypto signal channels for months now, we can say these guys do a good job in general. And if we have to trust anyone for a leveraged signal, then this group would be our way to go.
Not all of the listed groups have general trading signals channels, though. Some of them formed out of other channels or are solely BitMEX-focused telegram channel. If you prefer Discord for BitMEX trading signals, we have this well-researched post for you. If you go with other BitMEX channels be very careful – there is a scam beneath every corner. NEVER, like really NEVER, give someone your account credentials to trade your account. There is an API that enables you to let a provider trade your account without risking a robbery. Way too many folks got scammed by an "I trade your account for you – guy" – don't be that Jack!
No matter how excited you become to have found finally some reliable BitMEX trading signals, you should never, never, never use more than 10x leverage, even if a provider suggests it– as this can become a trading suicide pretty fast. As we rank our providers by their consistency rate, we even give out a High-Leverage Penalty if they exceed 10x. One thing you might have observed in trading signals is, that there is nothing like a "dead-sure signal". Things can change quickly. Bad news comes in, the sentiment changes suddenly, and the best technical analysis won't cover your back.
Different to normal crypto trades is that you can't just hold until the price recovers. Especially not with leveraged positions. This is because the leverage works on both sides, so your equity can be eaten pretty fast if the price runs against your direction. There are occasions you can make use of leverage to de-risk your trades. This is the real job of leverage in my opinion. We put another post up for you, to learn how to use BitMEX Leverage in a way it makes sense.
So whatever you trade, if you buy or if you sell, if you are bullish or bearish – you should always have a good stop-loss in place and use proper money management and calculate your risk-reward ratio. It is teasing to go all-in if you have a provider you can trust. But they will also fail from time to time. It's like that, no matter what and it is totally normal and OK – Money management is there to protect you from these cases. Personally, we would not exceed 1-5% of the total equity, you allocated for BitMEX. Remember: slow and steady wins the race and there are no overnight riches waiting for you. Just like what you do with your crypto portfolio and the crypto portfolio strategies you use. You must take care and have good planning too with Bitmex trading.
The Providers of these channels allow us often to share a free signal with you, so you can test the best Bitmex signals out on our Telegram channel!
But now let's go – here are the Best Bitmex Signals Providers for leveraged Crypto Trades
---
THE BITMEX SIGNAL REVIEWS
Our Hand-selected List Of The Best BitMEX Trading Groups On Telegram
---
---
#1 Universal Crypto Signals
~Provider of the Month~
+++Highest Win Rate and Auto Trader Support+++
(added 03-2019 – updated 08-2020)
~ Trading Signals for Binance and Bittrex | Margin Trading available | Auto Trader~
---
---
#2 Verified Crypto Traders
(added to The Best Crypto Signals / The Best BitMEX Signals 02-2018 – updated 08-2020)
~ Crypto Trading Signals for Binance, Bybit, Kucoin, Huobi, BitMEX | Bitcoin Analysis | News | Market Overview | Auto Trader ~
+++Advanced Signal Group by Seasoned Crypto Traders offers Auto Trader & Market Updates+++
10%
Verified Crypto Traders 10% discount
Looks like you found a Verified Crypto Traders referral code! Don't like to read and just...
Show More
Looks like you found a Verified Crypto Traders referral code! Don't like to read and just want to join the number two on our best provider list with a 10% discount. (The discount is already applied in our shop for you)
Show Less
---
#3 Fat Pig Signals
(added 11-2018 – updated 06-2020)
~ Binance Trading Signals| Portfolio Analysis | News ~
---
#4 CoinCodeCap
---
#5 Sublime Traders
+++Advanced Signal Group by Seasoned Crypto Traders offers Auto Trader & Market Updates+++
---
How to use BitMEX Trading Signals
Golden Rules when trading these Signals
This is a small BitMEX Trading Signals 101 on how to not burn your account. Follow this rules to a T and you will have your account very long and prosper. I know, many people just join signal groups and go all in, in full trust, but this is not how to do it, this is the way to burn your account. Crypto traders are never 100% right, 60-70% is great rate and these tested providers have shown this number consistently for a longer timeframe. But there will be losers – it is normal! Here are the rules for you to print and glue them on your desk.
Bitmex Trading Signal Rules
Allocate no more than 10% of your total equity for each trade.
If the entries are even numbers, modify them to odd numbers
Spread this 10 % for each signal 4% at entry, 3% more above, another 3% even more above for short order, 4% at entry, 3% below and another 3% if the price drops even more for a buy order.
Take profit on targets, make targets odd numbers if even.
Take 50% out on TP1 and move the stop-loss to break even. This way you book profits and make the trade risk-free at the same time. Take 10-20% on the targets after TP1 and leave some tiny % on the trade as you never know.
Start with low leverage. Once Target 1 has been hit and you moved your stop loss to entry, you can go even 100x – it does not matter, as long as you have a stop market order in place (don't use stop-limit)
There are no "safe trades". Treat each trade like that. Safety can only come from how you handle your account by your money management.
How to use leverage on BitMEX
Day Trading cryptocurrencies has its ups and downs. However, the biggest advantage in bear times is leverage trading on BitMEX for your trades, if you know what you are doing. Leverage simply means that you borrow money for investing in something. In the case of the cryptocurrency market, these funds are given by the other crypto traders' funds as BitMEX is a mercantile peer-to-peer exchange with a smart funding feature. If you critically evaluate the working of the Bitcoin trading sector, then the working mechanism is similar to that of the Forex market. For example, when you trade leverage 50:1 in the forex market, then this means that you can trade 50 times more than the original capital.
Different cryptocurrency exchanges offer the users the facility to open up leverage positions, BitMEX trading signals even offers up to 100x times leverage on Bitcoin trades – our suggestion though is that you never should exceed 10x. However, the leverage ratios that are offered in the digital currency market are quite low for most other exchanges. The reason is the volatility of the digital currency market and the implemented danger to leverage a trade in high numbers. The leverage in the digital currency world follows one simple rule, "High leverage can yield high returns," but there is also a possibility that high leverage can yield heavy losses. Leverage can also De-Risk your trading if you use it right. Read our article about BitMEX Leverage here.
Let's start a small tutorial that shows how you can trade on BitMEX with possible leverage.
Understanding the Difference between Margin and Leverage
When you have made up your mind to trade cryptos with leverage, then you need to be familiar with another concept also, and that is margin trading. Margin can simply be termed as a good faith deposit that is required to keep your trade open. The leverage can be termed as a by-product of margin trading, and it helps the trader to control the trade size.
When you wish to indulge in margin trading with cryptocurrencies, then you will have to borrow the money against your existing funds. This means you will trade on margin on BitMEX and you are leveraging your existing funds and increasing your buying/selling power.
With great power, comes great responsibility

–Voltaire
Example of a leveraged long trade with BitMEX
If one buys 1 bitcoin with 0.1 BTC by buying a 10x margin position at BitMEX, it must be noted that the rate of dollars used will vary with current market value. This leverage is taken at 10x. Moreover, the price of bitcoin can also be shorted if the contract is sold by any means. Here the constant risk of losing the stake is present. This leverage was initially set at 10x. It can be raised to as high as 100x with Bitcoin, which is never advisable.
Evidently, 100x leverage is a blind risk or gambling as some people may call it. But if one plays a successful gamble, it pays blind riches back – but most of the times it leaves rek't accounts behind. The key to such a mammoth success is how effective the strategy of the businessman or investor is. As far as the jargons are concerned, when carrying out the operation, the available balance and cost are defining factors.
Note: The cost must be lower than the available balance for the uninterrupted and successful execution of the process.
At first, the position of the user is set at a certain quantity. This quantity is in dollars and is variable according to the changing asset. Moreover, the amount of money that is reserved as a risk is less than that. It is an unsaid rule for a smooth operation.

Cost: There is another term known as a cost that has slightly more than the literal meaning of the word. The value of the BTC determines the cost, and the leverage factor multiplies to that values, e., in this case, it is around 0.10 BTC (leverage is still 10x).
Order Value: Next thing we encounter is the order value. In this example, the value of the position is set to a specific value. The order value is determined by that. Here too the value is 1 BTC. Its value in dollars is calculated according to the current rate of the dollar in the international market.
Note: It should be remembered that fees are calculated on this value
Available Balance: Available balance is also an important term. It is the amount of the equity present in the current time for the trading. As mentioned before, it should be sufficient enough to start off a trade and must be quite greater than the cost as we have defined it previously.
Liquidation Price: The liquidation price is also calculated during the process. It is an approximate value that is calculated in case of insufficient time, or the business faces insufficient exposure at any time. There is a calculator on the website, you can use upfront to calculate your liquidation price. You should make use of it.
After defining all the terms, values and margins, we are ready for the execution. The details of all the inputs and corresponding output are now ready to be looked at. An interesting fact is that the profit can exceed 100% or even more but the losses are restricted to 100%, and the efforts are of course made to minimize this percentage as low as possible.
Example of a leveraged short trade with BitMEX
The procedure is the same, but the percentages of the long and short profits and losses differ a great. Like long, the profit can exceed up to 100%, but unlike long, it cannot be termed as unlimited. This is because, in short, profit is limited when the price has fallen to 100%. Now, the price would become negative as it falls any further with the current or increased rate hence limiting the value of the profit. This is one of the many specialties of the BitMEX. The trading contracts are designed in a way to optimize the benefits of the clients. To broaden the outreach of this entire program and translating the business strategies into the digital world to provide an easy and timely access across the globe.
Options, Options, Options for leveraged trades on BitMEX
Most of the platforms offer two order types. One is the limit order, and the other one is a market order. This means that you will buy or sell your order at the market or the limit price. With a market order, the order gets executed directly against the order book. With a limit order, it gets triggered once a certain price is reached. You always should add stops to your orders when you go into day trading, chances are high to get your complete funds on this bet liquidated fast, especially with leverage.
For these stop orders, it is the same, you can place it as a limit order. (not advisable, these often don't get filled in fast moves) or as a market order. This means that your order will only be executed once the specified stop level is reached. In short, the stop level will act as a trigger for your order. If the trigger is not reached, then the order will not be executed.
Bitmex Calls Advanced Orders
BitMEX also offers advanced order types. For example, you can set hidden stop loss orders, trailing stop orders, take profit as limit or as a market order. Again, using these options makes sense with the market option, even if you pay more fees for it. Past has shown limit orders often don't trigger with fast moves, and those happen pretty often.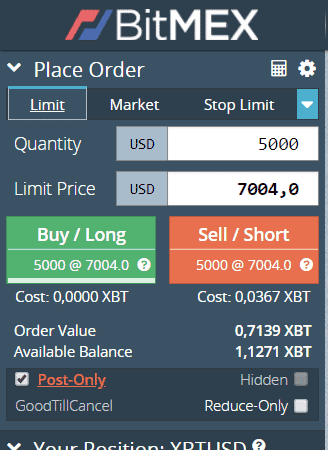 The Fee Structure for Leverage Trading on BitMEX

To those who are not familiar with the maker/taker fee concept it works like the following:
Maker fees are paid when your order is executed via limit order below or above the current ticker price. Example Bitcoin is at 7,000 USD and you place a sell order at 7,250 USD. You add liquidity by doing so, this is rewarded with a small payment to your balance.
Taker fees are paid when you trade the order book with a market order. If you place a market order to buy at 7,000 USD it needs a seller that wants to sell his contracts at this price. This removes liquidity from the system as it removes other traders' offers.
So if you buy with a market order you pay 0.075% fees. If you use the leverage of 10x, it will multiply with it and you pay 0.75% and so on. Always keep the fees in mind!

Free BitMEX Trading Signals on Twitter and Telegram
We used to have a few Twitter accounts that provided great free trading signals for Bitcoin on Twitter but they all closed, moved, or are scams. We believe that most free channels don't have the quality anymore that we would share with our readers. If you have found a good channel with good free trading signals feel free that share this with us and we will check it out.
Added note we also have had great response to the Binance Automatic trader bots showing up all over the place to compete with Bitmex. It is not just how to make a crypto portfolio or trying to update your crypto portfolio strategies anymore! We have moved into a world of leveraged crypto trading signals on telegram channel from many different brokers, so stay tuned!
We hope you enjoyed this overview of BitMEX signal providers and wish you much luck and good results in trading. Please be sure to use a low leverage like 3x max to put an extra layer of safety to your trades. Trading is no fast money-making, it is about a slow and steady increase in your equity. Buying and selling with leverage in the markets can raise your funds. And yes, you can use them than to purchase more altcoins at the current discount prices, but the risks are significantly higher. Always keep that in mind. Stay & trade safely!
DISCLAIMER
This article is for educational purposes only. We are no financial advisors. The information provided from Smart Options is for informational purposes only. It should not be considered legal or financial advice. You should consult with a financial advisor or other professional to find out what may be best for your individual needs and risk tolerance.
Please do your own research and never let anyone trade your account for you. We do not support or advertise Fund Management in any kind of manner. We solely review signal providers, their work/analysis/provided education. Please read this disclaimer and leave the website if you disagree with it.