Table of Contents (click to expand)
BitMEX is a cryptocurrency trading platform for leveraged trading. Leverage trading means that you borrow money to invest in something. It offers you to use leverage up to 100x.
Leveraged trading comes with high rewards but high risks as well. This is why you need the best BitMEX signals to get a competitive advantage over the market.
With BitMEX trading signals on Telegram, professional traders share their trade setups on the BitMEX platform. They provide all the information you need to execute profitable trades through Telegram. Let's find out how all that works.
6 Best BitMEX Signals On Telegram
A summary of the previous month's trading results (click to expand)
Intro to Leveraged Trading on BitMEX
For many people, trading on BitMEX is very tempting. It offers the opportunity to reap some profits while the other holdings with leveraged trading on regular exchanges drop.
Leverage trading on Bitmex means that you borrow money to invest in something. In the case of the cryptocurrency market, these funds are given by other crypto traders' funds. This works because BitMEX is a mercantile peer-to-peer exchange with an intelligent funding feature. BitMEX offers up to 100x leverage on BTC trades – we suggest you never exceed 10x.
For example, if you go with 10x leverage on a trade, it means that you're trading 10x of your original capital by borrowing the rest of the funds. Whenever you use leverage on a trade, always follow this simple rule:
High leverage can yield high returns, but high leverage can also cause heavy losses because you still have to repay the borrowed funds.
What are BitMEX Signals on Telegram?
BitMEX signals are just like regular crypto trading signals, where you get detailed instructions on executing a trade on BitMEX. A standard BitMEX crypto trading signal will comprise a Telegram message which contains the following information:
Trading pair: Which cryptocurrency to trade for another
Entry point: The price level you have to buy crypto at
Exit point: The price level you have to sell at
Leverage: The proportion of original capital you want to borrow for a leveraged trade
Stop-Loss: A safety measure to mitigate losses if a trade goes wrong.
Beware of the Risks with BitMEX Signals
High leveraging your trades on BitMEX is dangerous. We want to stress that leveraged trading can zero your holdings quickly, especially if you don't know what you're doing.
Remember that every high-leverage trade recommendation is a risk for your account. This is due to the well-known volatility of crypto. When you borrow more than your original capital, and if the trade is profitable, you earn more than you could with your capital alone. However, if the trade goes south, you will lose more than your original capital.
The risks are obvious: Once your margin is eaten, the trade, and in the worst case, your whole account can be liquidated.
You need a trading plan on when to enter and exit the markets to make money. If you're new to BitMEX and just playing with the thought of starting over, please take some time to read our BitMEX Guide.
BitMEX is heaven and hell in one. It can help you stop the bleeding of your account value or cost you everything. Our selected providers will help you to make the first case happen. They will grow your BTC on holding while the world falls apart – ready for the next bull run!
The Providers of these channels often allow us to share a free signal with you so that you can test the best Bitmex signals out on our Telegram channel!
The Best BitMEX Signals on Telegram Reviews
Here's our hand-selected list of the best BitMEX Trading Groups out there. Read each summarized review to find out what each signal provider offers. You can also opt to read the in-depth reviews of each signal provider if you're interested.

#1 – Universal Crypto Signals
+++Highest Win Rate and Auto Trader Support+++
~ Trading Signals for Binance and Bittrex | Margin Trading available | Auto Trader ~
BitMEX signals would have been completely different without Universal Crypto Signals. They are at the top position with a win rate of over 100% most of the time. The vast majority (90%+) of their trades tend to be profitable almost every month. Even if a few of them don't work out, this never affects their win rate.
Universal Crypto Signals is ideal for people looking to trade safely and make good profits. They have consistently created profitable trades, even during challenging market sessions. Hence, your trading experience with them will be unlike any other.
You need a Universal Crypto Signals subscription if you are still new to trading and want successful crypto trades on BitMEX.
Learn more about the team behind UCS and what makes them so successful in our UCS review. Our in-depth analysis will give you a good idea of UCS's professionalism.
Universal Crypto Signals Review
Read the full review here!

#2 – Fat Pig Signals
+++ Pro-traders bull or bear Bybit/Bitmex/Binance Signals+++
~ Binance Signals| Portfolio Analysis | News ~
Fat Pig Signals is one of the best BitMEX trading channels on Telegram. They are known for bringing significant profits regardless of what the market looks like. Their win rates are above 90% on average compared to other BitMEX signal providers.
The premium Fat Pig Signals membership offers many benefits. This includes Bybit & BitMEX signals for margin trading, Binance signals with risk management, crypto news updates, management of mid-term plus long-term portfolios, exclusive reports, opportunity analysis, and a private Facebook group.
The folks at Fat Pig Signals guarantee to get your profits no matter how is the market situation. Also, they are hilarious people. Hence there's never a dull moment in their Telegram groups. New traders will surely enjoy their time and learn more about the crypto trading world.
Our Fat Pig Signals review will give you greater detail on what makes them so awesome. If you're considering subscribing to them, read them to ensure you make the right decision.
Fat Pig Signals Review
Read the full review here!

#3 – CoinCodeCap
~ Coin Monks | Auto Trader | Education Videos | Bots & Tools | Dashboard | Low Leverage Future Signals | Bitcoin Analysis ~
One of the best Telegram BitMEX signals on the market can be found at CoinCodeCap. These traders have plenty of experience when it comes to the trading world. They are expert crypto professionals with an abundance of knowledge.
The people at CoinCodeCap, also called the Coinmonks, have written helpful and detailed content about everything related to crypto trading. The fact that they started writing about crypto is why CoinCodeCap came into being. Beginner crypto traders will find everything they need in their Telegram BitMEX signals group.
Moreover, they have excellent customer support where experienced individuals are always available to answer any questions that you might have about trading or any other issue. Also, some new traders find it difficult to set up Cornix for auto trading. Therefore, there's Cornix bot support available as well.
Plenty of resources are available on CoinCodeCap's official website blog. They offer detailed information about the crypto market and so much more. Do visit them if you get the time.
SmartOptions' CoinCodeCap Review gives you a solid understanding of what this signal provider offers and how good it is at providing profitable trades.
CoinCodeCap Review
Read the full review here!
#4 – OnwardBTC
+++Advanced Crypto Signals Telegram Group by Seasoned Traders offers Auto Trader & Market Updates+++
~ Daily Technical Analysis | VIP videos and teaching | Auto-Trading bots included | Risk Management | News ~
Onward BTC is hands down the #1 signal provider for those new to crypto trading. What they charge and offer is beyond mind-blowing! This group has been trading in the crypto space for over 4 years. They are a group of 3 traders and 1 marketing guy. All of them are very technical analyses focused on different styles between them.
In the good days of Bitcoin, we have seen an influx of newbie crypto traders. Many have little to no clue about trading. They have seen movies or ads and think no big deal, I can do this! Trading on its surface seems easy, and with many, they quickly learn that it is not. The Bybit offer is a winner as well.
This low monthly fee signal provider has a powerful sense of community and a customer service focus. Hence we do not believe they can be beaten for the price they offer. Mainly geared for new traders, this is the best you can get starting, PERIOD!

#5 – Sublime Traders
+++Advanced Crypto Signals Telegram Group by Seasoned Traders offers Auto Trader & Market Updates+++
~ Crypto Trading Signals for Binance, Bybit, BitMEX, and Coinbase Pro~ | Bitcoin Analysis | News | Market Overview | Auto Trader ~
Sublime Traders are known to be more advanced regarding BitMEX signal providers. This is because they offer numerous different features that cannot be found with other conventional signal providers. A new trader will get the complete package when they sign up with Sublime.
A new trader can choose from the many pricing plans that Sublime Traders have to offer. If you get everything they offer along with all the plans, you have to allot a period you are willing to commit to. Also, the longer your chosen plan is, the more discounts you will get.
There are a plethora of great features that every member will surely benefit from. You get your money's worth when you invest in a Sublime Traders membership.
Also, they have recently integrated the Brutal Scalps Algo within their trading strategy for well-examined market overviews, for better take profit, plus stop loss points.
#6 – Verified Crypto Traders
+++Advanced Signal Group by Seasoned Traders offers Autotrader & Market Updates+++
~ Crypto Trading Signals for Binance, Bybit, Kucoin, Huobi, BitMEX | Bitcoin Analysis | News | Market Overview | Auto Trader ~
Veteran traders are happy to share their expertise and market analysis with novice traders through Verified Crypto Traders. People who are looking for a great crypto community would benefit from becoming a part of the BitMEX signals Telegram group. This is a chance to learn directly from the experts themselves when it comes to trading.
One of the many great things about VCT is that everyone is willing to share information in these trading crypto groups. They regularly share valuable resources, which could greatly help someone new. The Telegram group is always ready to answer any questions you might have.
There are several pricing plans to choose from in VCT. This allows the trader access to Leveraged trading signals, BitMEX, Binance Futures, and auto trading with Cornix. The informative and educational resources, including the various pricing plans, make VCT the perfect choice for every crypto newbie.
Read our VCT review for an in-depth look at all the ins and outs of this signal provider service.
Verified Crypto Traders Review
Read the full review here!
Selection Criteria for the Best BitMEX Signals on Telegram
Finding credible BitMEX trading signals on Telegram was hard work. We've thrown out the fishing rod and found a few good signal providers out of many low-quality crypto groups.
We've been monitoring these signal providers' Telegram groups for a long time and can vouch for their seriousness. As we've subscribed to their Telegram crypto signal channels for months, we can s these guys generally do a good job. And if we have to trust anyone for a leveraged signal, then the providers we've mentioned above would be our way to go.
We used the selection criteria to pick the best BitMEX signal groups.
Monthly win rate: The monthly win rate is the percentage of profitable trades over total trade signals issued. This number gives a solid measurement of how well a BitMEX signal provider performs.
Leverage: We always recommend our readers never exceed 10x leverage on any of their trades. As we rank our providers by their consistency rate, we even give out a High-Leverage Penalty if they exceed 10x.
Automation and other features include all the offerings from a signal provider besides their signals services. Auto trading, integrations, and other features play a significant role in enhancing user experience.
Team experience: Highly-experienced teams with a proven track record gives you confidence that they know what they're doing. This is why we rank more experienced signal providers higher than newer ones.
Credibility: We also consider the reputation of the signal provider and how robust their community is. A signal provider's credibility helps us ensure it's not a fake or pump-and-dump channel.
Price of membership: The membership cost for each signal provider's premium signals group played an important role. Providers offering high-quality services at lower prices rank higher.
More About Bitmex
BitMEX is a Hong Kong-based cryptocurrency derivatives trading platform that is a real-time application for potential investors. It operates in many regions, such as Japan, South Korea, Europe, and Russia. US Citizens are blocked by an IP ban from using the live platform but you may use a VPN. However, a VPN may slow down your internet by 10-20% and can spoil your trade.
Its commission rates vary with each transaction. BitMEX has been in the game since 2014 and was the first to launch a leveraged swap contract on cryptocurrencies. In other words, since there is no expiry (on the perpetual contract for Bitcoin ($XBT), one does not need to roll one's position at a fixed point every time – only the future contracts run out.
What To Know Before Using the Best BitMEX Signals
If you go with other BitMEX channels, be very careful – there's a fake signals group at every corner. NEVER give someone your account credentials to trade your account. There is an API that enables you to let a provider trade your account without risking a robbery. Too many folks got scammed by an "I trade your account for you – guy" – don't be that, Jack!
No matter how excited you become to find some reliable BitMEX trading signals finally, you should never use more than 10x leverage. Even if a provider suggests it, stay away because this can become a trading suicide pretty fast.
One thing you must know about trading signals is that there's nothing like a 'dead-sure signal.' Things can change quickly. Bad news comes up, sentiment changes suddenly, and the best technical analysis won't cover your back.
Leveraged Trades Are Not the Same
Unlike regular trades, you can't hold your leveraged trade until the price recovers. The leverage works on both sides. Your equity can be eaten quickly if the price runs against your direction.
You can make use of leverage to de-risk your trades on some occasions. This is the real job of leverage, in our opinion. We put another post up for you to learn how to use BitMEX Leverage in a way it makes sense.
Whatever you trade, if you buy or if you sell, if you are bullish or bearish – you should always have a good stop-loss in place and use proper money management and calculate your risk-reward ratio.
It's teasing to go all-in if you have a provider you can trust. But they will also fail from time to time. It's like that, no matter what, and it is normal – money management is there to protect you from these cases.
Bitmex Trading Signal Rules
How to Use BitMEX Trading Signals – Golden Rules
Many people join signal groups and go all in, in total trust, but this is not how you do it. This is the quickest way to burn your account.
Here's a small BitMEX trading signals 101 on how not to burn your account. Follow these rules and you'll have your account prosper.
Crypto traders are never 100% right. 60-70% is a great rate; these tested providers have consistently shown better numbers for a long time. But there will be losers – it happens! Here are the rules to print and glue on your desk.
7 BitMEX Trading Signals Rules
Allocate no more than 10% of your total equity for each trade.
If the entries are even numbers, modify them to odd numbers
Spread this 10% for each signal 4% at entry, 3% higher, and another 3% higher. For short orders, 4% at entry, 3% below, and another 3% if the price drops even more for a buy order.
Take profit on targets, make targets odd numbers if even.
Take 50% out on TP1 and move the stop-loss to break even. This way, you book profits and make the trade risk-free at the same time. Take 10-20% on the targets after TP1 and leave some tiny % on the trade, as you never know.
Start with low leverage. Once Target 1 has been hit and you moved your stop loss to entry, you can go even 100x – it does not matter, as long as you have a stop market order in place (don't use stop-limit).
There are no "safe trades". Treat each trade like that. Safety can only come from how you handle your account by your money management.
Different Options for Leveraged Trading on BitMEX
Most of the platforms offer two order types. One is the limit order, and the other is a market order. This means that you will buy or sell your order at the market or a limited price.
With a market order, the order gets executed directly against the order book. With a limit order, it gets triggered once a specific price is reached. You should always add stops to your orders when you go into day trading. Chances are high to get your complete funds on this bet liquidated fast, especially with leverage.
For these stop orders, it is the same. You can place it as a limit order (not recommended, these often don't get filled in fast moves) or as a market order. It means that your order will only be executed once the specified stop level is reached. In short, the stop level will act as a trigger for your order. The order will not be executed if the trigger is not reached.
Bitmex Calls Advanced Orders
BitMEX also offers advanced order types. For example, you can set hidden stop loss orders, trailing stop orders, and take profit as a limit or market order. Again, using these options makes sense with the market option, even if you pay more fees for it. Past has shown limit orders often don't trigger with fast moves, and those happen pretty often.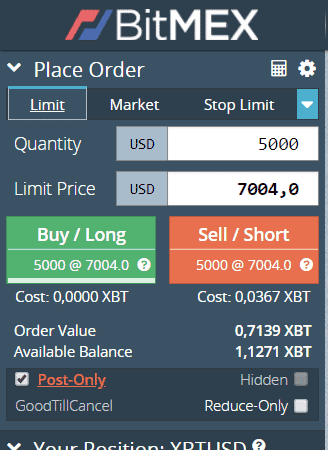 The Fee Structure for Leverage Trading on BitMEX
To those who are not familiar with the maker/taker fee concept, it works like the following:
Maker fees are paid when your order is executed via a limit order below or above the current ticker price. For example, Bitcoin is at 7,000 USD and you place a sell order at 7,250 USD. You add liquidity by doing so, which is rewarded with a small payment to your balance.
Taker fees are paid when you trade the order book with a market order. If you place a market order to buy at 7,000 USD, it needs a seller that wants to sell his contracts at this price. This removes liquidity from the system as it removes other traders' offers.
So if you buy with a market order, you pay 0.075% fees. If you use the leverage of 10x, it will multiply with it and you pay 0.75%, and so on. Always keep the fees in mind!
Free BitMEX Signals on Twitter and Telegram
We used to have a few Twitter accounts that provided great free trading signals for Bitcoin on Twitter but they all closed, moved, or are scams. We believe that most free channels don't have the quality anymore that we would share with our readers. If you have found a good channel with good free trading signals, feel free to share it with us and we will check it out.
Added note: we also have had a great response to the Binance Automatic trader bots showing up all over the place to compete with Bitmex. It is not just how to make a crypto portfolio or trying to update your crypto portfolio strategies anymore! We have moved into a world of leveraged crypto trading signals from many brokers on Telegram channels, so stay tuned!
Final Thoughts
We hope you enjoyed this overview of the best BitMEX signals and wish you much luck and good results in trading. Please, be sure to use low leverage, like 3x max, to add safety to your trades.
Trading is not fast money-making. It is about a slow and steady increase in your equity. Buying and selling with leverage in the markets can raise your funds. And yes, you can use them to purchase more altcoins at the current discount prices, but the risks are significantly higher. Always keep that in mind.
Trade safe!