There is a new tool that brings fresh air into the business of Crypto Tools. Cryptolume is a data-fed dashboard with tons of visualized information. It can provide some excellent insights and a convenient overview for the advanced trader.
Trading cryptos is different from trading FX/Forex, due to the lower volume in general. This makes technical analysis, in general, a bit tougher and one is right to consider volume-based data before entering trades. Crypto is a young market, and therefore easy to manipulate.
Volume and some indicators can give you a hint if something is in the bush – Cryptolume can help with that. However, you should find your nerd glasses first!
What is Cryptolume in a nutshell?
CRYPTOLUME is a smart cryptocurrency analysis tool. CRYPTOLUME helps users make knowledgeable trades and assists with finding fast moving, profitable cryptocurrencies. SAVE HOURS per day looking at volume and price action through the use of a web-application graph and notification system.
So, what you get is the ultimate dashboard for what is going on in the markets. Cryptolume.co is not a tool that spreads signals. It is more of a research tool, that helps you to find excellent trading opportunities by various indicators. Basically, Cryptolume pulls data by exchanges like Bittrex, processes these and visualizes it conveniently. This enables you to get an overview of the markets. All this without having to have 100s of tabs open charts and order books. Do you want to know where the party is going? And what is being traded right now by the masses? This tool helps to spot where the action is.
Insightful data of the buyer/seller ratio on glance for 100s of cryptocurrencies is quite useful. Combined with RSI data for several timeframes it is even better. Furthermore, it provides its formula. Which is based on price action, volume, and RSI.
Presenting you hints on what is interesting right now. There is an additional Slack channel you can opt-in to receive alerts once their indicator triggers. Currently Cryptolume.co pulls data from the following exchanges: Bittrex, Binance, Bitfinex, Poloniex, HitBTC, KuCoin & Cryptopia.
Let's take a look at the several features.
The Dashboard
Let's take a look at XEM, which pretty depressing at the moment.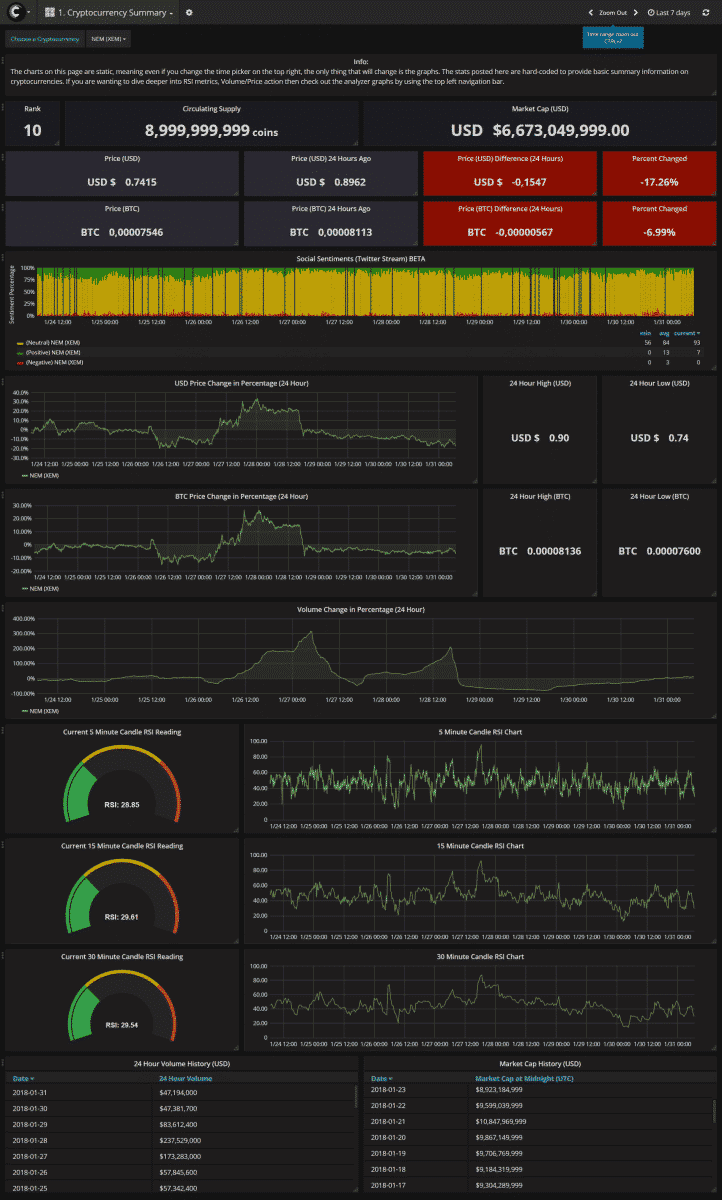 I took it for the last seven days. XEM had a hard time with the hack along the dropping Bitcoin. Let's assume I want to know if it is an appropriate time to buy some at this oversold levels. While the price of XEM might seem to be attractive. We can see that the market cap of this token has dropped. We have mostly neutral social sentiments, and the volume history shows us that, after the selloff spike it plummeted. So I'd interpret it to stay away.
Table of Movement
The table of movement is a very cool overview of what is going on in the world of cryptocurrency. With a comprehensive page like this, fed by live data.
You know what is going on, and which coin has momentum right now. At a glance, you have all the percentage movements of coins and tokens concerning volume and price for the 5, 15, 30 and 4-hour timeframe as well as their RSI values,
Table of Events
The table of events is a handy tool for fundamental traders. Several crypto calenders are feeding this page, and it shows the upcoming news for several cryptocurrencies at a glance. You can select the coins you have put an eye on very conveniently and see what is coming up.
Again, this is a real timesaver. Instead of checking coinmarketcal.com and the likes you have all the data right at your fingertips. This along with an additional column that shows you the recent price change against BTC. This is very helpful to find coins. Ones where the news has not already priced in. Or to find a cryptocurrency in a dip with juicy news upcoming.
The Buyer/Seller Percentage
A feature that comes in handy for all the traders, that like to consider buy and sell walls. Cryptolume offers buyer/seller pages for several exchanges like Bittrex, Binance, Bitfinex, KuCoin, HitBTC, Poloniex and Cryptopio. If you are more a numbers guy then a visual one, you will appreciate this feature. You will see the current sentiment of the order book. By that you will be able to estimate your chances better. For example, a support line is likely to hold or not. Another example: The price of particular coin/token nears your figured support line. You see that the buyer percentage is increasing, it is more likely that this support will hold and versa vice.
Twitter Sentiments
While we would refrain from making any trade decisions directly from this feature. Still it is a useful tool for checking the current sentiments on Twitter. Trading is always also a reflection of the mass psychology, and this tool can help you to estimate it better.
You can run several coins/tokens against each other to determine which of the ones has more positive hype around. Let's say you have two trades in mind, both with promising TA and other intriguing factors. You could check the twitter sentiments for additional input, to get a hint which is more likely to move faster / more in general due to the hype factor behind it.
The Twitter sentiments tool is also interesting from another point of view. You can check it against your impression and remove the subjective bias you may have built.
Here is an example of the cryptos with strong communities behind.
The RSI Analyzer
Sure, you have an RSI indicator already on your charts. This is so that you might ask about the purpose of this feature. Again, it comes to correlation here and how to put the cryptos into the big picture. It is very convenient to have several RSIs on one graph for a direct comparison. This can give you interesting insights. For example how closely the RSI of $xyz ties to BTC or if they move maybe even inverted. Once again, an ultimate time-saver. As you have all the coins with their RSI data for multiple timeframes (5M/15M/30M/4H) at your fingertips.
Besides that, there is also a handy alerts page for each of the timeframes. Thus uncovering all the oversold / overbought cryptos on the market for you:
The Volume Analyzer
Crypto markets are young; therefore there is an essential difference between trading FX pairs: the volume. More volume usually means that your technical analysis becomes more reliable. More volume usually means more significant price moves. Volume is that thing you have to keep an eye on when trading cryptos. As the volume analyzer helps you with that. You can get historical volume stats on 1H, 1D, and 7D. Thereby you directly run the volume of several cryptocurrencies against each other on the graph.
The Volume/Price/RSI Spike alerts
This tool is a nifty one. It spits out alerts off three uptrends in volume/price. Along with the RSI showing at oversold levels on the three candles before the uptrend has started.
In Conclusion…
Cryptolume is a comprehensive tool for the day trader. Maybe even for the investor that likes to plan the perfect entry point. One that has some knowledge in trading. This tool can save you tons of time. Thus you can see it as your new market scanning assistant. There are many valuable insights to gain and here lies your opportunity by using Cryptolume.
The used data is compiled in a good logical flow. One can see that the app was developed under the counseling of real, active and knowledgeable crypto traders. Hence the price is pretty low for the value you get here: $19 / month. This can make you life as day trader easier.
If you don't want to hit F5 on the app all the time. Well there is also an advanced plan for $29. Which gives you access to a slack channel, where bots inform you about the generated alerts. Along with personal chat support by the admins. Furthermore, they just added a bot-driven notification once new coins enter exchanges.
Right now there has been an Arbitrage scanner added. Consequently we didn't review here. But it is good to see the team active and continuously adding new features.
However, we also want to stress that Cryptolume might be not for everyone. It is a tool to present data in a convenient, time-saving way for traders who know what they are doing. People who expect a simple signal service. Or who don't have a sufficient trading knowledge won't be satisfied with their purchase. Pro-Traders surely will enjoy the many convenient features, and with that price, it is a no-brainer.